TEXTILE CREATIONS FOR MY UNIVERSITY COURSE

My side of the tent
This was part of a group project - Context
REPETITION
wall hanging using stamping,beading &free machine embroidery
Self Portrait 1
Tryptic divided into early childhood,today, young adulthood
THE SECOND PORTRAIT OF SELF WAS PRESENTED LIKE A RUSSIAN NESTING DOLL WITH EACH LAYER PEELED OFF LIKE AN ONION TO REVEAL YET ANOTHER WAY IN WHICH THE WORLD SEES ME.
THE SMALL NAKED DOLL WAS HIDDEN UNTIL LAST TO SHOW THAT UNDERNEATH MY MANY GUISES I AM STILL THE THIN YOUNG GIRL I USED TO BE.
IT IS LIKE WE ADD ON ALL THE LAYERS TO HIDE WHO WE REALLY ARE.
The Outer Self - Part 2 of Self Portrait Series
We are made up of many layers under the outside persona that is presented to the world.
The Spotty -Menopausal Woman
This is how my Doctor sees me
Another aspect of self
The Gardener
Born to Shop
One of the layers of ME
The Cat's Mother
Another aspect of self
Chef
Yet another layer of self
My daughter said that I am like a mother hen I know when to push them out of the nest and when to hug them close.
The Inner Self
The slim hidden self that remains constant
HANDMADE BOOKS
A simple handmade book
Cover embellished with rice paper, inks & fibres
Above Capricorn
A journal of my life in Northern Australia 1980-1992
Mt Isa mine at night
layered paper & vellum - inside of book
Two more pages from Above Capricorn
Mullamulla blooming & Reefs & Islands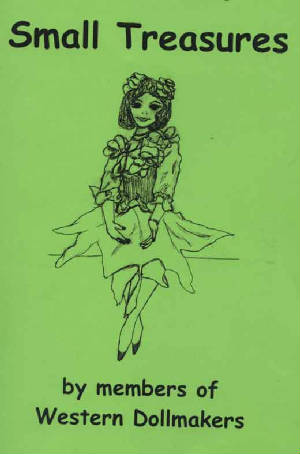 HAVE YOU SEEN OUR BOOK?

19 original patterns for
$A20.00 +
$A2.00 Postage & Handling

$A22.00 total
Cheques made out to Western Dollmakers Inc.